Friday, July 13, 2018
By CarKhabri Team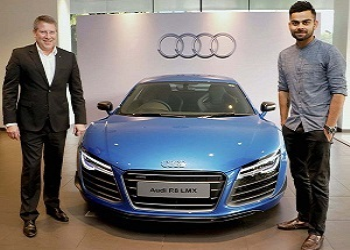 Cars Parked At The Yard Of Indian Cricket Team Skipper Virat Kholi (Part 1)
In India, the cricketers are adorned equivalent to the God and therefore every cricketer has a huge fan following behind him. The craze of these fans towards their favourite cricketer can be witnessed from the fact that they are not only keen to know every fact about their personal and professional life but also do not hesitate in following their style to look like them and try to buy the product that is endorsed by them. The Indian cricket team skipper Virat Kohli is not an exception to this fan following and has a huge fleet of fans not only in India but across the world.
If you think that you are Kholi's biggest fan then do you know much cars are parked inside his garage. It would be interesting to know that the player who does not show any mercy while hitting the leading bowlers of the world, is fond of the luxurious car and therefore today we are going to list the car which the Indian cricket team skipper uses for driving to any place while he is in his hometown. We are sure that this information will help you in enhancing your knowledge about the likes of your favorite cricketer.
1.
Range Rover Vogue SE: Empowered with 4.4 litre SD V8 engine producing the power of 335 bhp and the torque of 740 Nm, the SUV seems to be the most favorite car driven by the Kholi. Because most of the times has been caught driving it along with his wife. The SUV is capable of touching the mark from standstill to 100 kmph in the span of 6.9 seconds. The cost of this SUV is Rs. 2.27 crore (ex-showroom ) and the variant owned by Kohli is its top end variant.
2.
Audi R8 LMX: Kohli not only likes to hit every ball bowled to him but also prefers to drive the vehicle at high speed and therefore to satisfy his driving hunger he has R8 LMX from the German car maker Audi. With the price tag of Rs. 2.97 crore (ex-showroom price) the car is energized with 5.2 litre V10 engine and touches the mark from 0 t- 100 kmph in the gap of only 3.4 seconds followed by the top speed of 320 kmph.
3.
Audi A8 W12 Quattro: With the long wheelbase the powerful limo by the Audi is energized with 6.3 litre 12 cylinder engine that is mated with eight speed dual clutch S-tronic transmission system. The engine generates power of 494 bhp and torque of 625 Nm. It is offered with the price tag of Rs. 1.98 crore.