Friday, July 27, 2018
By CarKhabri Team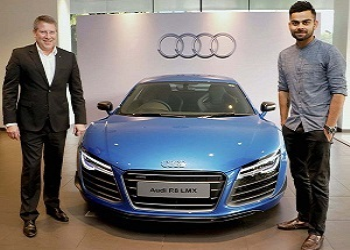 Cars Parked At The Yard Of Indian Cricket Team Skipper Virat Kholi (Part 2)
The first test match between the Indian and England cricket team will commence from August 1, 2018, and eyes of cricket lovers across the world would stare on the players of both teams. But, still there will be some players who will grab the attention of cricket aspirants across the world, the Indian skipper Virat Kholi is definitely one of them.
An interesting fact about Virat Kholi is that not only people are keen to watch his unique game but also interested to know about his personal life. Therefore, going through the interest of our readers we bought the information about the
Cars Parked at the yard of Indian Cricket Team Skipper Virat
Kholi
(Part 1)
, continuing the same information we will bring you the information about remaining cars parked at his resident.
Audi Q7: With the price tag falling in the range of Rs. 72.9 lakh to Rs. 80.95 lakh, the Q7 is one of luxurious crossover developed by the German luxurious car maker Audi. Empowered with 3 litre V6 diesel the Audi Q7 is mated with eight speed automatic transmission system and is offered with Quattro all wheel drive system.
Audi S6: The S6 sedan is an advanced version of A6 sedan. It comes with 4.0 litre V8 petrol engine that is capable of boosting the power of 420 bhp and the torque of 550 Nm. The engine is mated with seven speed transmission system and offered with Quattro all wheel drive system. It is offered with the price tag of Rs. 95.25 lakh.
Renault Duster: Although, as compared to other expensive and luxurious cars parked in the yard of Virat Kholi, Duster is quite inexpensive but it was present to him for his outstanding performance in an one day series back in 2012 played against the Sri Lanka. In that series he was honored as "Man of the Series" and given the compact SUV Duster for his game.
Toyota Fortuner: Toyota Kirloskar India, the Indian alliance of Japanese car maker Toyota Motors had presented its best selling SUV Fortuner to the Indian skipper due to an endorsement agreement signed between them.