Friday, June 11, 2021
By CarKhabri Team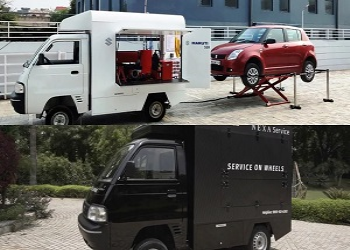 Get Your Car Serviced at Your Doorstep Amid COVID-19
Servicing is essential to enjoy flawless drive of your vehicle. Apart from the dealership of car manufacturers there are a huge number of private vehicle service providers from whom you can get your vehicle serviced. In the last few years various new start-ups have entered in the business endorsing to offer better services than the dealerships and established players in the market. An interesting feature of the services offered by the new entrants in the market is the facility of servicing the vehicle at your doorsteps. This has played an important role in establishing their roots in the market.
Interestingly this concept has gained a huge popularity in recent times, especially after the arrival of the global pandemic COVID-19. Due to lockdown imposed in most of the states people are compelled to stay in their homes. The availability of this facility has provided an option to the vehicle owners to get their vehicle serviced at their home. The duration of the service varies between 60 and 90 minutes.
It would be interesting to know that now not only the private service providers but even the various car manufacturers have started offering this facility to their customers. Car manufacturers like Maruti Suzuki India Limited, Ford India, Tata Motors and a few among such providers. The Indo-Japanese carmaker MSIL had initiated this facility a few years back as "Service on Wheel". The same types of services are also being offered by Tata Motors and Ford India. Where the domestic carmaker offers the "Door Step Service" the Ford India provides "Dial-A-Ford". All these services can be scheduled online.
Speaking about the growing practice of doorstep servicing, the sources of domestic carmaker Tata Motors, said, "With the market rapidly expanding in tier-3/4 cities and rural areas, there is an urgent need for reaching out to customers regarding vehicle service and repairs. With the increasing cost of real estate and infrastructure, it is not possible for dealerships to establish multiple touch-points. In order to work around this, we introduced the Door-Step Service (DSS) enabled by Mobile Service Vans (MSVs)."
In the words of a private car service provider, Mr. Mihir Mohan, Founder and CEO of Pitstop, "As more customers want their service done through an automated process and with high levels of safety and hygiene, demand for Pitstop's at-home service grew significantly." He further added, "Pitstop plans to have over 2,500 garages in place by March 2023 with more than 500 vans by March next year. Technology is a huge part of Pitstop's expansion plans." Pitstop also says that as a company, it has witnessed a growth of around 35 per cent every month during 2020. The company has now also ventured into doorstep electric vehicle servicing.
Some of the major services offered in the doorstep services include regular vehicle check-up, replacement of parts like filters, fluid replacement, dry washing, and other services that are offered under free service programmes.
Speaking about the doorstep servicing of electric vehicles, it is different from the engine based vehicles. As there are not many moving parts in these vehicles they do not require specific maintenance. The doorstep service may include only changing the tyres or regular vehicle check-up.
The groups offering the doorstep service have their mobile application that offers you the facility to schedule, monitor, and make the payment online. Thus encouraging contactless transactions.