01-Oct-2012
By Shirish
Price: 9,03,800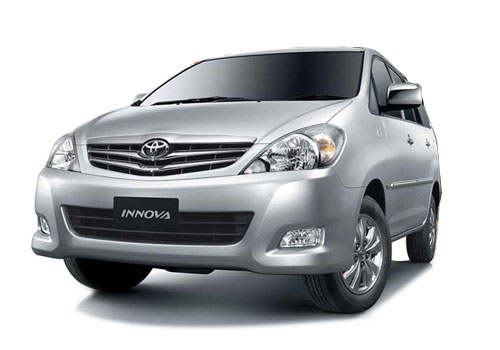 Toyota Innova– perfect combination of power and comfort
Pros : ample leg and headroom, big fuel tank
Cons : lacks airbags and anti lock brake system
I am Shirish from Bikaner. I own a '94 model Maruti 800. And I am currently not working anywhere but to support my family I have decided to become a taxi driver for inter city and intra city purposes. As there are less private taxis in the city and the number of Toyota Innova GX 8 is even less. I have planned to sell my ancestral land and buy a Toyota Innova for the money collected. The reason for me choosing this car is primarily the comfort level it offers to the driver as well as the passenger. The other reasons for my choice are the goodwill of the car and the company.

And the long term economy rate is also one of reasons. The company Toyota has been known for its high quality but a bit expensive range of cars. The Toyota Innova has been quite a good product over the years and hence for riding on the Indian roads with pride. Usually referred to as a family car, this one is spacious MPV and has ample amount of space for the passengers. With enough space for the passengers the car also provides enough space to be used as boot space. It is a fantastic car for long journeys and hence can be seen with a yellow colored number plate on both the ends. In most of cars nowadays which are used as taxi, space and comfort level is quite an issue, but with Toyota Innova there is no such issue. The car gives ample amount of space in all aspects.

The head room given in the car is also very good and gives extreme comfort level to the passengers. This particular variant of the car is a 2494 cc 2 KD-FTB diesel engine. That comes with turbocooler intercharger with a 4 cylinder. The car is extremely high with power of 102 PS at 3600 RPM and a maximum torque of 200 NM at 1400-3400 RPM. The fantastic car is blessed with a conventional manual transmission. The fuel tank of the car is 55 litres in size, which is very good especially for long journeys. One of my issues with the car is that this huge vehicle does not give a very good or I should say that it gives a low mileage of 10.5 kmpl in city conditions and 12.8 kmpl when it's on the highway. As far as I know the car will be highly used on the highways, and its mileage on the highway is pretty good. Within 17.5 seconds the car propels from 0 to 100 kmph and touches the top speed of 151 kmph. When talking about the features of the ride, the car lacks a very important safety feature, the airbags. Another important safety feature that the car lacks is the anti lock brake system.