02-Jul-2011
By Manish Pandey
Price: 9,03,800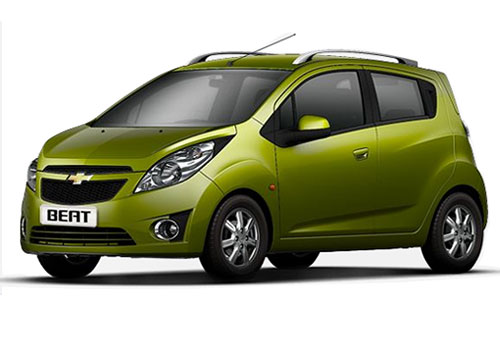 Dissatisfied chevrolet customer coz of the service
Pros : only the car
Cons : pathetic service
I have a taken a new chevrolet beat lt model from your delear in chunabhati(gyan motors).About the car i dont have any issues but by the service given by gyan motors sales executive was pathetic n worst.
I have taken the beat lt car on 30-May-2011,was enquiring abut the car from 20th March 2011,
The car taken by me was in full payment given by me by cash and cheque,at the time of enquiry i proactively informed that what docs i have with me for buying the car,actually i have 2 address with me(kurla old and borivali new) and i wanted the registration to be done on my borivali address,i had told her that i only have a driving licence which is of old address and i have pan card as an poi with me also informed that the reliance electricity bill and MGL bill for the new address is on mothers name,apart from this i dont have any address proof for the new address,and all the docs were given by me on 12-Apr-2011.as she informed me that registration taken mimimum 15 days time.
the above docs sales exec Mrs Swati totally agreed for the same and told me that there wont be any prob regarding the registration,and also she has promised me the delivery of the car will be free of cost,which actually was not.At the delivery date she called me and said that the charges of rs 500 would be charged to you and wont be given free of cost as its as per RTO norms,i was really disappointed that time,and on for that i need to tell my relative to collect the car from the showroom(as Rs 500 matters to me as its earn from giving my blood and sweat).
As my relative went to collect the car i was surpised to hear from them the registration of the car is not been done becouse the docs was not proper as RTO.They informed to submit me other docs like MY LIC policy or my School leaving certicate for my nationality proof as driving licence is not valid as per RTO which itself is given by RTO surprisingly.
I told her as iam not in town for 15 days i will be coming to mumbai and will be submiting the same by 15-June-2011,and that too i need to search for the same docs at my kurla address.
Taking the pain and coming for a thing which i dont have any fault,i have submitted my LIC bond and leaving certificate of kurla address.The same docs i have submitted to her on 24-jun-2011 and she was ok with that and told me that the registration would be done in 3 to 5 days on the kurla address for which i was ok as i had didnt have any option.
Its 02-july today i have been keeping the follow up for the same and i got a response today from swati and his TL that there will be a charge of Rs 1500 to be paid for cancelling the RTO andheri charges.
Just want to know whts the fault of mine and y i should pay the charges as its a fault of your agent who actually dosnt has any product knowledge.
Its been more than a month till date i have not recived my registration number inspite of making all the payments in advance.I have been caught twice by the RTO officer for my number plate.
Just wanted to know am i really liable to pay the charges,without any fault of mine ?and its 1 month that i have taken a car and cant take it outside my area as i dont have the registration ?
Would really appreciate a call from the higher department of chevrolet for the pathetic service and want to know that will the registration will be done from your side or not ?????
Dissatisfied Chevrolet Customer,
Manish Pandey
9619 08 8765