27-Sep-2012
By Radhika
Price: 9,03,800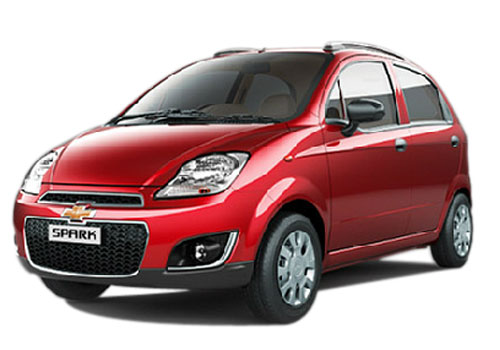 I love my Chevrolet Spark
Pros : Small size, low price, presence of LPG fuel option
Cons : Low fuel efficiency
My name is Radhika Anand and I from Lucknow; currently I am staying away from my home town and working in a HR consultancy as a HR manager in New Delhi. I stay in Pitam Pura and my office is also in the same place, it is just a 10 minutes drive from my place, therefore I do not have to drive much. At present I am using Chevrolet Spark 1.0 LT LPG which is my dad's car which he has given me to use for commute from my PG here in Pitam Pura to office and vice versa.

Through the weekdays, I do not drive much, but during weekends I go to Gurgoan or sometimes Noida along with my friends here in my PG to meet my relatives and friends who stay there. My experience with Spark has been good, I can depend on this hatchback completely, it has apt number of features, decent space to seat five adults comfortably, boot space is ok, but since I do not travel much I do not need it to be extra large. For me it is a perfect car that does not demand much of maintenance, I do not have to spend much money on the fuel thanks to the presence of LPG fuel option in this trim.

As far as the power of this trim is concerned a 995 cc, 1.0 litre, four pot, 8V SOHC MPFI engine is armed in the hatchback that is good for 60 Ps at 5400 Rpm and 88.4 Nm at 4200 Rpm. Available in manual transmission only the LPG trim has a fuel tank capacity of 35 litres only. One thing which I am not that happy about is the low fuel economy delivered by this hatchback, in city it gives only 10.5 kmpl while on highways it delivers 13.2 kmpl, though I do not get to drive it much on the highways, therefore the mileage offered within city is not good enough.

Feature wise I find it fine as it comes equipped with important features which I require for daily use like the air conditioner which is very effective even in the hot summers of Delhi, power steering, power windows are also given in both the front and rear side of the hatchback. Cup holders are given only in the front which is ok as I usually drive it alone or with one of my friends so I do not need it much. Remote trunk and remote fuel lid opener are also given in this trim, a CD player and central locking also come as standard. I think these features are enough for me at present if I would need more then I will look for a car in higher range but for now it is a perfect option for me, I am happy with my Chevrolet Spark.