29-Nov-2012
By Rohan
Price: 9,03,800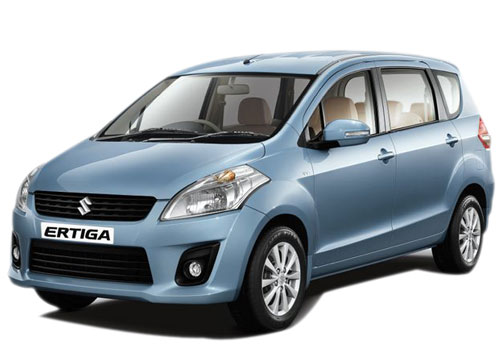 Ertiga Vs Innova
Pros : pickup,comfort,features and value for money
Cons : a bit more space for the third row passengers,EBD,auto climate control and air quality control and a 1.5 ltr engine.
Look and Style.

Though not very attractive in the front or rear, its has got its looks when one looks from the side[i confess I keep on staring @ the side].Though it doesn't feel like an Suv it completely feels and rides like a car.The maruti designers should focus on styling.

Comfort

Love the front and second row seats, push back the front seats and then you have acres of space left in the middle row.well the third row ain't bad either but I highly recommend the last row only for kids.Thigh support is excellent. The ride comfort is good.

Pickup

The engine feels a little underpowered until 2000 rpm before the turbo kicks in and leashes out the horses.Well the turbo lag doesn't bother you much unless you've got some heavy jumbos.
comparison between the innova and ertiga.
Performance............(seconds)
Innova:
0-60:6.6


0-100:17.50
3rd gear 20-80:14.39.
4Th gear 40-100:19.50.
Ertiga
0-60:5.46
0-100:14.28
3rd gear 20-80:11.14.
4th gear 40-100:12.71.

Mileage

City:17kmpl
highway:20kmpl
The maruti ertiga can achieve a mileage of 30 kmpl if one's driving @60 kmph in the 5th gear under the 2000 rpm mark.

Features

although this car is packed with features it misses out in some essential features such as automatic climate control, parking sensors, airquality control and EBD. The rest features are standard.

Needs to improve.

Styling [ the front and rear ].
Features [ as mentioned above ].
Interiors [ There should have been some alternative to the present colour ].
Pickup [ The T jet engine of the fiat would have been really cool ].

Overall Experience

It is a value for money car if you are looking for a family car. Maruti has got it right again with the ertiga.