13-Jun-2011
By Akash Malviya
Price: 9,03,800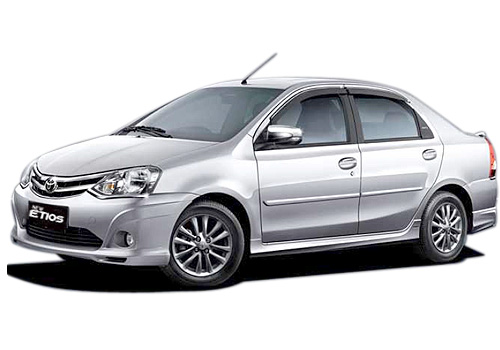 Toyota Etios a pocket friendly sedan
Pros : Powerful Engine, good wheelbase, eye catching looks, AC
Cons : Dash panels and seats
I recently checked out the much awaited Toyota Etios. The Test Drive was long and so i could grab the most of the knowledge about the car. Honestly, the car doesn't match the hype but still is somewhat satisfactory in a bit of compensation here and there. A drive of about 3 kms was an eye opener and i would now definitely ask my friend to think twice before settling for this one. So here's my review about the Toyota Etios.
Exteriors
The Car looks stunning from outside. Toyota after all is best at finishing. Both front and rear ends of the car are absolutely marvellously designed and look exquisite. The Silver colour especially gives a glow that quickly catches attention. The Headlamps are curvy and look cool and on the other hand, The Rear part including the tail lamps is quite similar to the kind we find in other Toyota Cars.
Interiors
The Car somewhat disappoints from its interiors. The interiors have nothing unique or something that you cannot find in other cars of the segment. I was surprised to find the Music system with all four speakers in the front and to my shock the doors do not latch with a pleasant sound instead they make a disturbing noise when you close them. However a DVD player is installed that gives a sigh of some relief. Seats are quite comfortable and spacious. The Rear has excellent leg space and long journeys would be of less fatigue. The Car also has a huge boot space. To me it's something i was looking forward to and to my expectations, the car has admirable space. The AC is excellent and effective. The Shafts are properly positioned.
Engine
The Engine is extremely powerful and gives a tremendous response even while picking up at higher gears.
Performance
The Best thing about the car's performance is its brakes that are pretty much impressive and powerful. The Car is said to have a good mileage but i am not too sure on that. Gear change and ratio is good and gives a smooth ride. The Steering is excellent and at its best. The Car is easy to control and looks cool on the road.
Conclusion
The Overall Car performance is satisfactory but can improve if some changes and modifications can be done in the interiors especially with the doors, music panel and display. The Car is best suited as a middle class luxury sedan. In a price of that, what more can you possibly get.