02-Jul-2012
By Raghu
Price: 9,03,800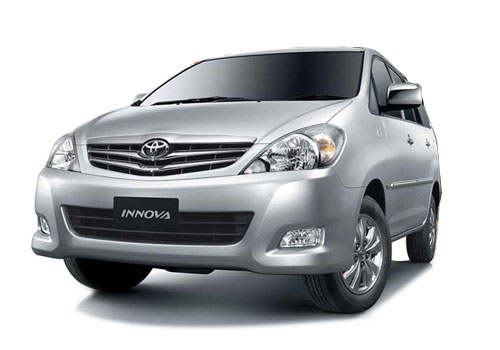 Toyota Innova: perfectly perfect for my friend
Pros : Unique look, superb performance, ensured safety
Cons : Expensive
My friend wanted to buy a 7-8 seater car for his joint family. Also his family is a traveling freak. As and when they get time they are all set to go on a trip and are no hesitant to drive long distances any time. Keeping in mind the large family and their love for traveling every now and then he wished to buy a car which suits every purpose. The car had to be large in size as well as good looking and comfortable. After testing a lot of 8 seaters we finally went to Toyota showroom in Jodhpur and took the Toyota Diesel VX 8 Seater on a test drive. And on the very 1st drive we found it to be perfect keeping in mind his requirements. Now he is the proud owner of the same. The engine is powerful and the car's body is quite strong which gives guaranteed durability. Also the car ensures safety because of its strong body and driver and front passenger airbag which makes his traveling more safe.

Also the car has a unique look which is comparatively different from other 8 seaters which I like the most about the car. The average given by the car is satisfactory with 10.2 in city and 12.8 on highway. As my friend is more familiar with the highways he is very happy with the car's performance.

Talking about the features of the car the power steering is just wonderful. The air conditioner of the car works excellent and all three rows are cooled uniformly. The CD player is present in the car which is not present in some other models of the Toyota Innova. Power windows are only in the front. The rear ones are a normal but that's just a normal drawback.

The space and comfort in the car is like no other. There are three rows and it is remarkably comfortable for all the 8 people sitting in the car. And yes for his large family it is not at all difficult to use the 8 seater as a 12 seater sometimes. It gives a superb speed. Features like central locking, alloy wheels, anti lock brake system, rear and front cup holders, remote fuel lid opener and trunk opener makes it a perfect car. Acceleration and pick up are just superb.

I think the TOTOTA INNOVA DIESEL VX 500 is just perfect for my friend's big and traveling freak family. As it makes them stay at ease even at long distances and does not lack any function.

Yes it is a little expensive but when as my friend says "when it comes to family's happiness the price is nothing."

And you know what he has already taken his new car to a trip to Vaishno Devi. An auspicious first trip indeed!!